Hey Poptropicans! Slanted Fish here, and the time has come for The Secret Society of Poptropica to be unveiled! Just what are they up to with their complex compass tattoos and their capturing of Jorge, Mya, and Oliver?
Find out in Poptropica: The Secret Society, the third book in the graphic novel series, which has just dropped! You can now get it in stores, on a mobile device, or, if you've pre-ordered it, it should soon be sent to your address. Look out for the bright green!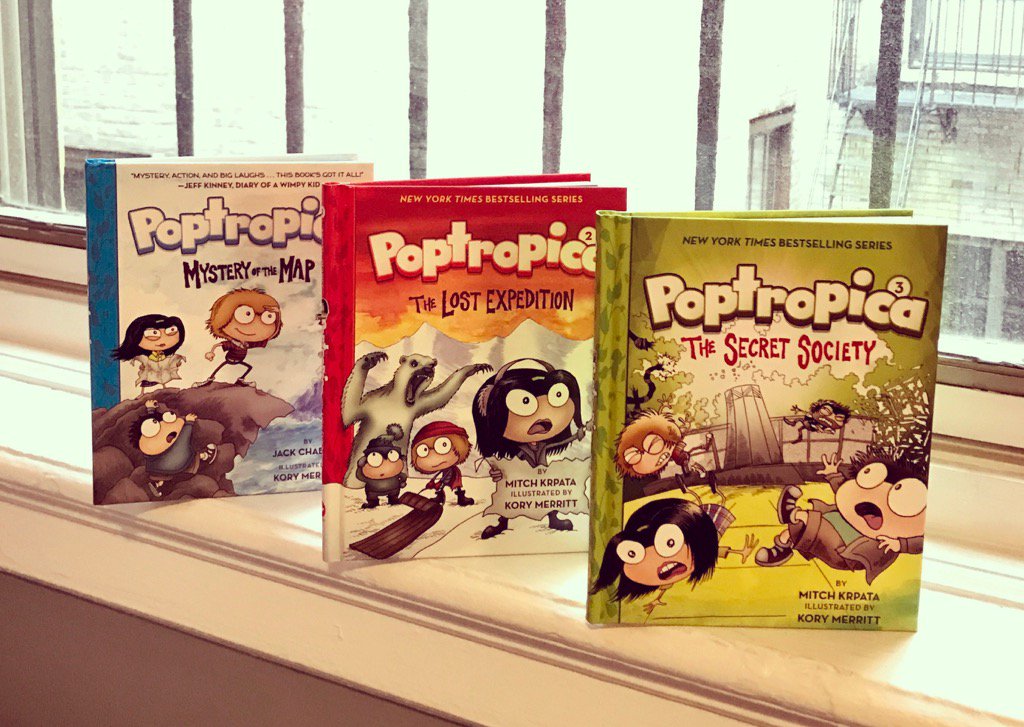 (picture credit: Daniel Lazar, @DanLazarAgent on Twitter)
If you're buying it on Amazon (which ships worldwide), the current price for the book is US$7.51, not including shipping, and pricing in digital formats may vary.
Anyway, it's super exciting to see the book finally released, as I'm sure a lot of hard work went into planning, creating, and publicizing such a big project! I, along with others on the PHB team, hope to have the chance to read it soon, and we'll let you guys know what we think right here on the blog. (Yes, it's a middle-grade book, but Poptropica fans of all ages should be excited!)
Over on the Creators' Blog, Captain Crawfish went ahead and "interviewed" the book's author, Mitch Krpata, "by phone." Or is he interviewing himself… since Mitch is probably Captain Crawfish?? Hmmm. In case you missed it, Mitch also did an interview with the PHB earlier, which you can read over here! (#ShamelessPlug)
Anyway, you can read the full CC vs. MK interview on the Creators' Blog, but I'll include some of the more interesting parts below.
About The Secret Society…
CC: Obviously we don't want to spoil the story for readers, but what will be different about this book? How have the kids changed?
MK: The Secret Society explains more about the history and purpose of Poptropica. It also starts to pit the kids against each other a little bit. As they learn more about the mysterious organization, they find themselves disagreeing about the group's motives and actions. There's still a ton of action and peril, but now there's tension between the kids about the right way and the wrong way to do things. The Lost Expedition was more of a pure survival story.
CC: Speaking of which, what about Captain Franklin and the crew of the HMS Terror? What happened to them?
MK: [diabolical laughter, devolving into a coughing fit]
…and there's even a little something about Poptropica Worlds!
CC: Switching gears a bit. Poptropica players are on the edge of their seats waiting to play Poptropica Worlds. You've been hard at work on it. What can you tell us about it?
[…]
MK: We've still got big island quests with lots of characters, challenges, and plot twists. That hasn't changed. But now we've got new features that make the quests more accessible to new players and that help returning players get back up to speed. The islands aren't necessarily easier, but we're giving players more tools to finish them.
Plus, we're building tons of new stuff from the ground up, including a lot of things that Poptropicans have been requesting for years — like your own customizable house. It's a brand-new game that is still unmistakably Poptropica.
And now for the Q&A we've all been waiting for…
CC: When can we expect to play Poptropica Worlds?
MK: What's that? Couldn't hear you. Bad connection.
Thanks, guys. 😂 I think we've figured that one out.
Read the rest of the wonderfully humorous interview here!
That's not all! Poptropica is also doing a giveaway to celebrate, in which one lucky random winner will win all 3 Poptropica graphic novels, plus a 3-month Poptropica membership!
To enter, just head over to their Facebook page (@OfficialPoptropica) and click on the "Giveaway" tab on the left. Then, click the buttons to visit Poptropica on their various social networks for chances to enter up to 5 times. If you don't have a Facebook, you can ask a parent or someone you know to help you enter.
The giveaway ends next Monday, April 17, at midnight ET. Good luck to all! 🙂
Congratulations to Mitch Krpata, Kory Merritt (the illustrator), and the rest of the Poptropica team on the book launch! 📗📕📘
Poptropicans, have you read The Secret Society yet or have plans to pick it up soon? Let us know in the comments what you think of the latest book!
Stay popping!
–🐠